IJEAB(10.22161) is member of CrossRef(DOI)

Refereed International Research Journal in the field of Environment, Agriculture and Biotechnology
Thomson Reuters ResearcherID: E-2759-2017
Impact Factor: 3.118
DOI: 10.22161/ijeab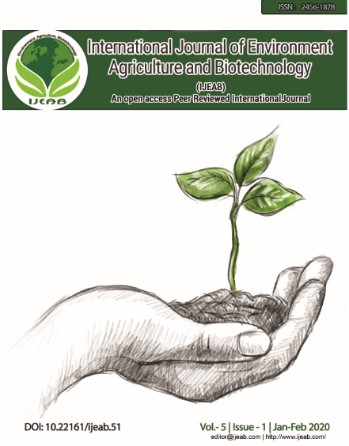 Publication Frequency: Bi-Monthly/6 Issue Per YearInternational Journal of Environment, Agriculture and Biotechnology (IJEAB)(ISSN: 2456-1878) is an international open access peer reviewed online journal in the field of Environment , Agriculture and Biotechnology. It's main aim is to give quality research papers. It covers all sub-fields of above mentioned fields. It provides platform to academicians, students and professionals. It publishes only original research papers and review papers. Submitted paper should meet some criteria like, It should be original, unpublished and not submitted to any other journal.
IJEAB is a refereed / Peer Reviewed International Journal. It has high impact from an reputed society and DOI (Digital Object Identifier) from CrossRef.
We publish papers on a variety of topics, contexts and analysis strategies that examine the quickly evolving relationship between Agriculture and knowledge technology. We have a tendency to encourage a large range of submissions, including, but not restricted to:
Topics of Interest:
Environment: Researches in the field of environmental science such as Aquatic Sciences, Energy Resources and Conservation, Environmental Chemistry, Environmental Biology, Environmental Economics, Environmental Engineering, Environmental Physics, Environmental Health - Public Health, Environmental Law - Policy - Eco Justice, Environmental Management, Environmental Toxicology, Global Change, Climate Change, Monitoring, Environmental Analysis - Monitoring, Nature Conservation - Biodiversity, Pollution and Remediation, Soil Science, Sustainable Development.
Agriculture: Agricultural Diversification, Agricultural Economics, Agricultural Engineering, Forestry, Agricultural Biotechnology, Agro climatology, Agricultural Entomology, Agricultural Production, Energy Agriculture, Tissue Culture, Plant Culture, Aquaculture, farming, Toxicology and Waste management, Veterinary medicine, Irrigation and water management, Animal science: Animal breeding, Animal nutrition, Agronomy: Plant science, Theoretical production ecology, Horticulture, Plant breeding, Plant fertilization, Medicinal Plants, Biological engineering: Genetic engineering, Microbiology, Environmental science: Agricultural Biodiversity, Ecology, Food science: Nutrition, Safety, Storage, Management and Preservation, Soil science: Soil physics, Soil chemistry, Soil biology, Agrology, Plant Breeding, Soil and Environmental Sciences, Agricultural genetic.
Biotechnology: Researches in the field of biological science such as Animal Sciences, Botany, Bio Chemistry, Biotechnology, Bioinformatics, Cell biology, biochemical , Cryobiology, Ecology, Ethno-biology, Food technology, Forestry Sciences, Fishery Sciences, Forensic Sciences, Genetic Engineering, Home Sciences, Life Sciences, Molecular Biology, Microbiology, Medical Sciences, Nanotechnology, Pathology, Pharmaceutical Sciences, Toxicology, Veterinary Sciences, Zoology etc.
Popular Indexing and Abstracting of Journal
Google Scholar
Academia
WorldCat
SlideShare
Pol-Index
PBN-Polish Scientific Bibliography
The university Library-Aalborg University
Internet Archive
JournalTOC
ResearchBib
Bibsonomy
CiteSeer
DRJI
Thomson Reuters ResearcherID
WikiCFP
Root Indexing
Infobase Index
PdfSR
Cite Factor
ISSUU
Reddit
Scribed
etc.....